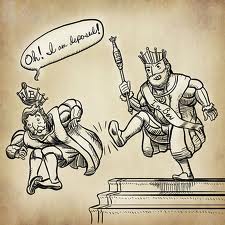 I just finished watching the two videos of the work session of the PSC from yesterday. If it weren't for the costuming, the whole thing could have been an episode of The Borgias. Drama! Intrigue! Character Assassination! Greed! Envy! Power Plays! And now we know – Travis has the biggest one and can piss the farthest. Wahoo. Long live the king. Not.
Quite frankly that was the most disgustingly obvious power grab since Brutus slipped the knife into Caesar's ribs. As painful as it must have been for Bill Gallagher to have had to sit through that farce, I would venture to guess that the loss of the gavel is probably more welcome than not; his only regret being that he didn't have the opportunity to use it to whack some sense into Travis Kavulla's thick skull.
For those of you who thought that we might finally have a responsible conservative commission – sorry. Travis has sold his soul for the chairmanship – whether he realizes it or not. And I suspect not. Yet. He is now a wholly owned subsidiary of the Democrat minority. For any of you who have not yet had the opportunity to watch the proceedings for yourselves, you don't have to take my word for it. The fun starts towards the end of Session 1 and continues through Session 2. Be advised – this is neither short nor sweet.
I am disappointed in Travis. I was very impressed with him when I met him a year ago January and was delighted when he won last November. He is an extremely intelligent and articulate young man. But I have to agree with Chairman Gallagher, he is immature and lacking in character and integrity. Maturity will come. The other two traits are not assured. Mores the pity.
Yesterday was not a particularly good day for Montana politics except for one thing: Travis Kavulla proved that the 62nd Legislature isn't the worst political joke of the year.
Heavy is the head the wears the crown – or in more colloquial terms – You asked for it, Travis – you got it!