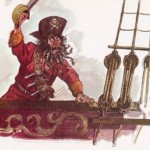 Ahoy, me Hearties! Today is "Talk Like A Pirate Day" – a silly, twenty-first century celebration of the romanticized and fictionalized versions of the sea-going rogues, scallywags, and rapscallions of centuries past, some of whom may actually have existed.
Captain Jack Sparrow, Blackbeard, Cap'n Crunch, and others of their ilk are being joined by a couple of marauding landlubbers: Gubernatorial candidate Neil Livingstone, along with his faithful parrot First Mate, Ryan Zinke. They've set sail from the land-locked shores of coastal Montana in their eighteen-wheeled Man o' War proclaiming their intent to "hoist the Jolly Roger" over the state capitol upon election. Batten the hatches and shiver me timbers!
No one seems to understand what Livingstone means by this bluster and bravado, but it makes about as much sense as some of his other campaign promises – like eliminating the office of the Secretary of State (a Constitutionally created office that the governor has no authority to eliminate!) and sitting down with every single state employee to determine whether they and/or their jobs are necessary. Blimey, it would take him at least four years to meet with all 12,000+ state workers! Okay, so that last might not be a bad idea if he does get elected somehow. Keeping this blowhole far away from the East Wing would at least minimize the damage he could cause to the state. Livingstone's ideas for governance seem to be right up there with raping and pillaging and as much fun as walking the plank. Aaarrrgh, matey!
Well, heave ho and blow the man down! I've never been one to let someone starve to death after they stick a foot in their mouth, so – in honor of Talk Like A Pirate Day – my ode to Montana's own Pirates of the Treasure State, "Cap'n Living Stone" and his First Mate "Sinky"
They're pirates who don't know anything
About running a campaign.
If you ask them what they're doing
They respond like they're insane.
They couldn't post a schedule
Of where their ship [BUS] will be
'Cause they take all their directions
From consultants in D.C.
They plan to start a revolution
And hoist the pirate flag.
They haven't read our constitution
It's too much of a drag.
They've got egos up the ying-yang
And their balls are made of brass;
They're out to screw Montana
They've got money – but no class.
You want Neil's resume for governor?
He knows how a pirate talks;
He's learned to play with Seals;
And he's a talking head on Fox.
He doesn't need to have the facts
Or know the laws within the state
He can make things up and bluff away
Just like Barack Hussein the Great.
He can rape and pillage government,
Terrorizing working guys
Threatening their lives and treasure
With nonsense and other lies.
He doesn't live in Helena;
He left here in his youth,
But he's spent some time in Washington
Where they can't tell the truth!
He's the next buccaneer for governor
Schweitzer will pale in shame
Livingstone's got "bull" and swagger
But no substance for this game.