Censorship is one of those "It doesn't happen here kind of things." But, obviously, it is going on right here in good ol' Montana – and in our public school system:
A high-school principal told Oscar-winner Gerald Molen he could not deliver his speech because he is a "right-wing conservative…" Gerald Molen won a best picture Oscar for co-producing Schindler's List with Steven Spielberg and has produced such Hollywood blockbusters as the first two Jurassic Park films and Twister. He's a former U.S. Marine and is a sought-after motivational speaker…Molen is one of those rare conservatives in Hollywood (he's even making a documentary called 2016, based on the Dinesh D'Souza book The Roots of Obama's Rage) and because of that, he says, Ronan High School principal Tom Stack decided to disinvite him — and he didn't tell him so until after Molen made the 90-minute drive from his home in Bigfork, Mont… When speaking to students, Molen's presentations usually invoke Oskar Schindler, who is credited with saving 1,100 Jews during the Holocaust and is the subject of the Oscar-winning 1993 film that Molen co-produced with Spielberg and Branko Lustig.
For the Ronan students, Molen planned to use Schindler as an example of what courageous individuals could accomplish, and he also planned to ask them to "imagine your future is a movie. Forty years from now, you're writing a script about your accomplishments. What would that script look like?"
"It was a totally apolitical speech," Molen said.
Read the whole story here and Mr. Molen's letter to the Daily Interlake here.
Are you shocked? Amazed? Disgusted????
It's time we all get behind Sandy Welch for Superintendent of Public Instruction. We need a new emphasis on educating our children rather than indoctrinating them!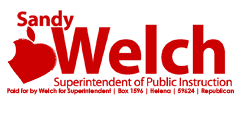 H/T to Loki for the link to the story.